STAGS Nominees Attend Glittering Ceremony at Herts Advertiser School Awards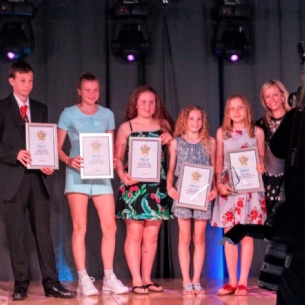 Proud STAGS nominees were delighted to attend The Herts Advertiser School Awards last Wednesday on 27th June 2018. Year 9 student, Antonia Jubb, and Year 10 student, Lucy Jordan-Caws, were invited for their Sporting Achiever of the Year nominations.

The event, now in its eighth year, celebrates all that is great within St Albans and Harpenden schools. These awards recognise both students' achievements, inspirational members of staff and schools that go above and beyond to make a difference.

The evening consisted of a lavish welcome reception and buffet followed by welcome speeches from Matt Adams, Group Editor for Archant Herts and Cambs, and Zoe Hancock, Principal at Oaklands College. The glittering event was broadcast live on the Radio Verulam 92.6 FM Parent Show, hosted by presenter Dr Kathy Weston. Despite being runners-up, both Antonia and Lucy said that they really enjoyed the evening with their families and felt very privileged to attend.