Kinky Boots Actors Sing Their Way To Acceptance for Diversity Week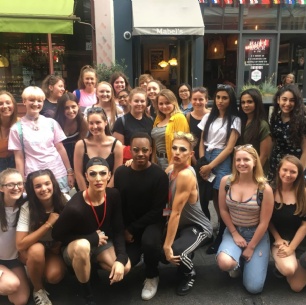 On Wednesday 4th July, 30 Year 12 students went to the Adelphi Theatre in Covent Garden to see the award winning musical, Kinky Boots, as part of Diversity week at STAGS.

Lydia Stainer gives her account of the visit: "The story follows a man called Charlie, who, after the unfortunate death of his father, is forced to move back from London with his fiancé to Northampton to take over the family shoe factory. After the business begins to lose sales, Charlie is forced to search for alternate ideas in order to support his business and the workers of the factory. He meets 'Lola', a sassy drag queen, who tells him that there is a serious lack of heeled drag boots that will withhold the weight of a man, whilst being glamorous enough for a woman. The pair begin creating boots, which allows both Charlie and Lola's drag queens to flourish. The story uncovers the insecurities faced by Lola and her entourage, and the lack of acceptance for this community who doesn't always fit into the norms of society. I really enjoyed the show and would highly recommend going to see it, and I'm sure that my friends would agree with me. It opens your eye to the difficulties faced by people who may feel as if they don't fit into one narrow stereotype in society, and their struggle to be accepted as themselves. As quoted from the show, 'accept yourself and you'll accept others too!'"

It's so important for students to have to opportunity to experience the theatre and with it being School Diversity Week, Kinky Boots was the perfect show to see! The students were excellent as always and meeting the star performers was the highlight.

Miss Brock, Assistant Director of Learning for Post 16