STAGS Beijing Trip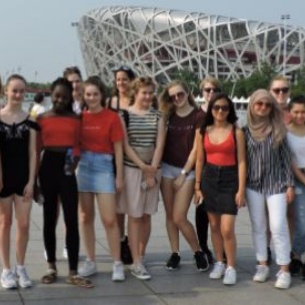 Amidst the summer heat and the flurry of exams, eight Year 9 students and seven Year 10 students took the opportunity to go on a fun and enriching trip to Beijing, China. The students, together with a group of students from STAHS, have been taking part in Mandarin lessons this year, run by "Dragons in Europe", and this trip was to be the culmination of all their hard work. Upon arrival, we were greeted by searing heat, but did not let this spoil the fun.

Each morning the girls continued with their Mandarin lessons, taught by their Chinese teachers who were to be our guides for the trip. We visited iconic temples and took part in traditional Chinese calligraphy workshops and then took our new found talents to the streets, haggling and bargaining in the local markets. We also had ample opportunities to sample the local cuisine, a highlight for many of the girls, which was surprisingly different to the 'Chinese' food served up in England!

For many though, the high point, both literally and metaphorically, was the excursion to visit one of the most stunning places on earth: The Great Wall of China. We walked along The Wall for many kilometres, taking in stunning views and enjoyed going down the slide that takes you back down!
All in all, it was a fantastic trip and we would like to thank the staff from "Dragons in Europe", "That's Mandarin", our new Chinese friends and everyone who made this unforgettable trip possible.

E. Gil, MFL

I had the incredible opportunity to go to China for my Mandarin GCSE. We stayed for six days and saw the beautiful views of Beijing. Some of the activities we were able to try were calligraphy, bargaining with locals and sliding down The Great Wall of China! My favourite part of the trip was when we visited the Beijing Olympic Park. I enjoyed this because we went into groups and took photos of different areas of the park and talked to Chinese locals to ask them how to pronounce certain phrases in Mandarin. I would love to go again!

Eriyn Earnshaw, 9A