STAGS Students Sing at Canterbury Cathedral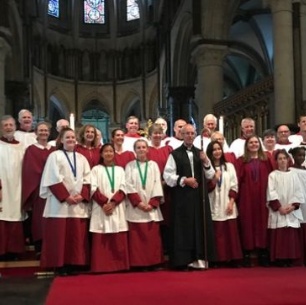 During the Summer holidays, four STAGS students had the opportunity to sing during three Evensongs at Cantebury Cathedral. Rosanna and Emily Milner, Sarah Halsey and Bethany Moss all enjoyed performing in front of the congregation including Justin Welby, the Archbishop, who praised the girls for their contribution to the service.
The Music department is looking foward to an exciting term including an Autumn Chamber Concert, SASSMA at the Alban Arena, the Abbey and Christmas Concerts. Please see Mrs Hennelly (Miss Glover) or Mr Kulha if you would like to come to a rehearsal, whether that is Cantabile Choir or Senior Orchestra. Everyone is welcome! Please refer to the Extra Curricular Music timetable for location and times.
Mrs Hennelly, Music