Dragons Apprentice Team Unity Holds Successful Charity Pizza Night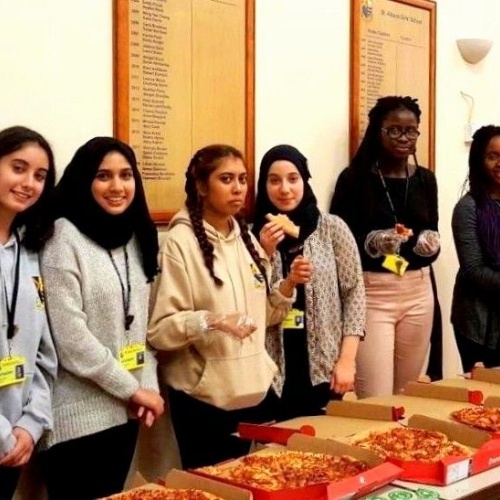 Please enter an introduction for your news story here.
We are Team Unity, 6th Form Students at STAGS taking part in the Dragons' Apprentice Challenge 2017. On Friday 10th November we held a very successful Pizza Night for our Year 7s in the Main Hall at STAGS to raise funds and awareness for our Charity Partner, Small Acts of Kindness. Small Acts of Kindness source and distribute gifts to older people in the community who are cold in their homes or alone at Christmas. Their Warm in Winter Gift Bags include items such as hot drinks, thermal socks and fleecy blankets which not only help to keep older people warm physically, but also spreads the emotional warmth of knowing that others care. This is often a catalyst to them feeling more positive and reaching out for improvements in their day-to-day living. When the need arises, Small Acts of Kindness help their clients to get further support through their partnerships with other charities and organisations for older people. At our sleepover themed event, we provided pizza, fruit and squash and set up a tuck shop with lots of snacks including popcorn, crisps and drinks. The Year 7s entered with great enthusiasm wearing onesies or comfy clothes and made themselves at home with their sleeping bags and blankets, ready to watch Moana. Following the film, the Year 7s had fun taking part in karaoke and a dance off, the enthused atmosphere was full of laughter. It was the perfect way to bring our newcomers together to let off some steam, after a tiring week of school!