Year 10 Students Create Successful Sweet Flans for MasterChef Competition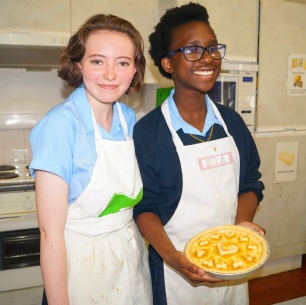 On Thursday 12th July, Year 10 students undertook the MasterChef competition at STAGS. Working in pairs and following a given recipe, students were encouraged to create a successful sweet filled pastry tart. In addition to this they were required to design and produce promotional material to advertise the item to a target market audience. The final fruit flan was judged on creativity, the quality of the pastry case and the consistency of the custard. Soggy bottoms and lumpy custard were to be avoided at all costs! As well as designing the retail packaging for the item students were asked to produce an advert, a menu based around the flan and also to give a short sales pitch.
There were winners from each of the four groups and a final overall winning pair for the practical and ICT work. The work was judged by Deputy Head Miss Thomas who said "for me, the winning flavour combination was that of grapes and kiwi together!" The flan winners were Grace Harding and Inaya Hasib. ICT winners were year Maryam Alakhal, Sophie Allen and Natalia Anastassiou. Congratulations to the all those who took part in what was a very successful MasterChef project.
Mrs Fowler, D&T