LEAF Education Teenager Engagement Day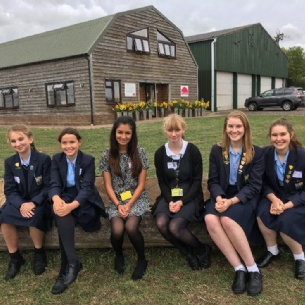 On Wednesday 12th September, six of us were lucky enough to be involved in the LEAF Education Project, attended by Honorary President HRH The Countess of Wessex, encouraging young people to become more interested in farming and food production and consider it as a possible career.
Having been part of a focus group in the summer term where we discussed what we thought about farming and where our food comes from, we were invited to visit the Farmschool in Harpenden where we took part in several activities to help give us an insight into what working life on a farm is really like.
We visited beehives where we learnt about bees (around 10,000 can live in a small hive!) and why they are useful within the farm's ecosystem and learnt about nutrition by making mini oat muffins using grains grown on the farm.
We also took part in several focus groups to discuss and share ideas with students from six other schools about how young people can become more engaged in farming. This included students from an actual farm school which made the day even more interesting.
These seminar-style discussions covered several issues such as farming, outdoor learning, careers in agriculture and how teenagers' attitudes to these could be changed. They also allowed us to share our thoughts on possible future projects, such as a farming award in the style of Duke of Edinburgh, as well as the importance of getting teenagers outside. It's exciting that our feedback is going to help policymakers in the future.
The highlight of the day however was meeting HRH the Countess of Wessex who took time to speak to each of us about the day and what we were doing.
All of us thoroughly enjoyed the trip: It was fun, educational, informative, insightful and it has helped to change our perception on the work that goes on for farmers.
Further information can be found here: https://leafuk.org/news-and-media/news/teenagers-help-shape-future-direction-for-industry-engagement
Helen Jenkins (13C), Amber Patel (13F), Ruth Quillen-Creamer (11A),
Joné Esterhuysen (11B), Emma Lorman (8F) and Isabelle Power (8F)