Opening of St Albans Girls' School Sixth Form Centre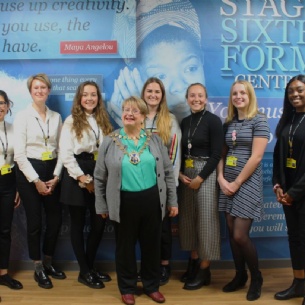 St Albans Girls' School was pleased to welcome the Mayor of the City and District of St Albans, Councillor Rosemary Farmer, to open the new Sixth Form Centre. The Head Students gave the Mayor and the Governing Body of the School a tour of the refurbished common room and tailor-made Sixth Form classrooms where she was able to speak to a number of students and Sixth Form student leaders.
In her speech, the Mayor praised the new facilities for STAGS Sixth Form and commented that this was an exciting time for the School. The Mayor reminisced on her own days in Sixth Form as the best years of her life and encouraged the students to focus on the learning as well as having fun, making new friends and taking up as many opportunities as possible.
Mrs Pipes, Assistant Head of Key Stage 5