'Castaways' Review and Workshop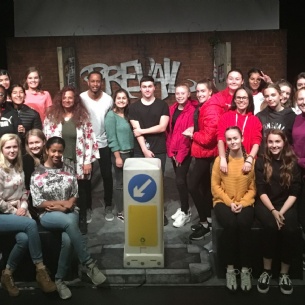 On Thursday 18th October, the Year 10 GCSE Drama students went to Trestle Arts Base in St Albans to see the performance of 'Castaways'. The play explored the theme of belonging and was performed by three young actors. It was a very emotional play, which had strong individual performances as well as great ensemble work. Afterwards, we all had the opportunity to meet the cast and director and discuss the performance, which deepened everyone's understanding of the play as well as the process of creating it.
As the 'icing on the cake', the director, Yasmin Sidhwa, led a 90-minute workshop at STAGS the following day where students got to explore themes of the play as well as create and act out scenes. This was a hugely positive experience, which has strengthened the drama students' knowledge and understanding about theatre in preparation for their own performance of a devised piece in June 2019.
Ms Reinhold, Curriculum Leader for Drama
The 'Castaways' workshop was AMAZING. I really learnt how just being in a character's shoes can actually make you see a different side to them - good or bad.
We had to perform three freeze frames on three significant parts of the play. We had to think of a headline to support the freeze frames, which was hard to do as it could be interpreted in many ways and we wanted to get the message across. We then had to do our own little scene based on an event that didn't happen in the play, which was fun but challenging. I loved having to figure out how to portray that specific scene using different techniques and being in the character's shoes: seeing things from their perspective. Some group members had a nasty character and despite disagreeing with their character's point of view, they had to stay true to the character and be nasty. We loved the experience and would love to do more.
Fran Jerrams, Year 10H