PGL Liddington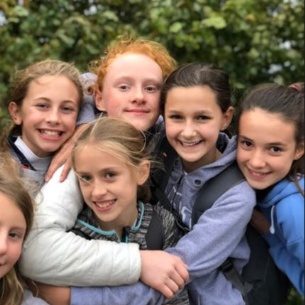 In the weeks leading up to the PGL trip, I was getting nervous about going. When Miss Hewitt told us about her PGL experience, it encouraged me to try every single activity and make the most of the trip! Despite this, I was still a little scared about the activities: especially the abseiling. My nerves made me feel like I didn't want to go but looking back to it now, I know that I was completely wrong!
Before getting onto the coaches first thing in the morning, we found out the rooms we were in and where they were at PGL. I wasn't with my closest of friends so I was a bit disappointed but I need not have been. I got along with the people in my room really well and became good friends with them, which was a good thing because if I weren't put in a room with them I wouldn't have done that.
As soon as we got there we did our first activity. We were put into groups, I found out I was in a group with one of my close primary school friends which was really good because it meant that we could do all the activities together. We did problem solving, trapeze, canoeing, giant swing, zip wire, vertical challenge and the disco. Every single activity was really fun and some pushed me out of my comfort zone and allowed me to do things that I had never done before!
My favourite activity was the zip wire. This was because I went up really high and I could see far into the distance and a nice view from where I were harnessed. The feeling of the wind on my face as I zoomed quickly across the wire felt like an achievement, rewarding me from being brave and taking a leap of faith off the edge of the tower!
The scariest and most nerve-racking activity was the vertical challenge, where there were some different climbing apparatus all going vertically upwards. It was a challenge where I had to try get to the top. I was really scared when doing this as it was my first time and I found it very difficult. My biggest mistake when doing the vertical challenge was looking down. Every time I did this, it made me more and more nervous! When I was struggling, it felt really encouraging to have everyone else in my group cheering me on; calling my name and shouting that I could do it. Despite my nerves I climbed to the very top and I felt incredibly proud of myself and that I had achieved something and demonstrated our Year 7 value of being brave.
After an amazing few days, we were sad to be heading home. However, the adventure didn't end there! Unfortunately one of the coaches had to pull in to a service station for an emergency service on the way back and because of my luck, I happened to be on that bus! However, this made the trip that much more memorable and gave us extra time to spend with our friends.
It was so much fun at PGL and I would definitely recommend the trip to others. If anyone were in doubt about going, I would tell to go, to put their fears to one side, to be brave and to push themselves to do all the activities. I am very glad I went!
Michelle Bottomley, Year 7C