100 Years of Remembrance, 1918-2018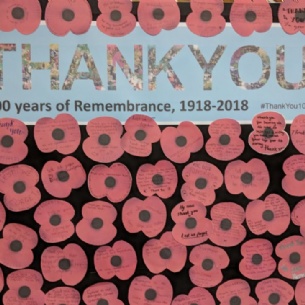 "The bullets on the battlefields...did not discriminate between the Sikhs, Muslims, Hindus, Christians, Jews and others. One hundred years later, we honour those who fought together by remembering them together." Rabbi Laura Janner Klausner
As most of you will have realised, 2018 is a hugely significant year for Remembrance. It's significant not just in the UK, but also worldwide - from France, Germany, Italy and Austria, all the way to Russia, Turkey and India. This is because November 2018 marks exactly 100 years since the end of the First World War.
Remembrance is not a word we use every day. In everyday life, we might say we 'remember' something like a friend's birthday, or an experience we enjoyed. An old toy, a theatre programme, or clothes that are now too small for us may bring back memories of the past. But 'Remembrance' suggests something more important - a significant experience that can be shared. In 2009, the last surviving combat soldier of the First World War, a British man named Harry Patch, passed away at the age of 111. In the absence of any remaining First World War veterans, Remembrance is a way of keeping the memories of Harry Patch, and the millions who fought alongside him, alive and ensuring that their sacrifices are never forgotten.
All week, students in Years 7 through 13 have been receiving special assemblies to mark the Armistice centenary. This year, the focus of the assemblies has been on giving our thanks to all of those who contributed and recognising the diversity of the soldiers who fought and died in this conflict. During the First World War, white British troops fought alongside soldiers of all different colours and creeds. This included over a million Indian soldiers, 400,000 of whom were Muslim soldiers from present-day Pakistan. In fact, due to the diversity of the soldiers fighting on the front line, it has been said that the armies of 1914-18 looked more like the Britain of 2018 than that of its day. A 17-year-old soldier from the Caribbean remarked that despite the racist attitudes of the early 1900s "when the battle started, it didn't make a difference. We were all the same. When you were there, you didn't care about anything. Every man was there under the rifle."
It is impossible to say exactly what the consequences would have been had the First World War never occurred, or the allies not been victorious, but our lives today would be very different if it wasn't for the people who fought and lived through the First World War. To mark 100 years since the end of the First World War, The Royal British Legion have been leading a national movement to say 'Thank You' to the entire generation who lived through the war. To support this, all students and staff at STAGS have been writing messages of thanks and Remembrance on poppies, which are now part of a special display in main reception area.
Miss Cardani, Teacher and Curriculum Leader of History