Anti-Bullying Week at STAGS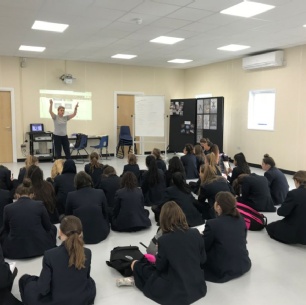 This week, STAGS has been celebrating Anti-Bullying week. The theme has been #chooserespect and the students have been busy discussing in form time what this means in terms of respecting themselves and respecting each other. The week was kicked off by "odd socks" day, where many of the staff and students wore odd socks to highlight differences in our community and how everyone deserves respect despite being different, out of the ordinary or unusual.
Each form has two Anti-Bullying captains who have been trained to deliver these form time discussions and to facilitate the writing of pledge cards which will be on display on the Anti-bullying talking wall next week. In addition to this the Year 7 and Year 8 Anti-bullying captains attended a peace event at the St Albans Cathedral to mark the 100 anniversary of the armistice.
Alongside all this work, they have also been busy creating a STAGS anti-bullying video that contains inspirational quotes from each of our Houses, created under the guidance of Head of KS3, Mrs Blackburn, with some of our talented Year 10 Media students. The video may also be viewed on our Facebook page.
Our Anti-bullying captains work throughout the year raising awareness and supporting our students by helping to signpost them to our fantastic Pastoral Team and Senior Leaders with any worries or issues that need to be dealt with. Any reporting of bullying at STAGS is dealt with swiftly and with care, giving our students a safe and supportive environment to learn.
A special mention must got to Mia Aikman (9J) for designing the wonderful Anti-Bullying STAG and to Coralee Holder (10C) for writing and inspirational poem that was shared with students.
Well done to all our Anti-bullying captains for inspiring their forms and helping to create the warm, caring and inclusive school that STAGS is.
Mrs Wheatley, Curriculum Leader of PSHCE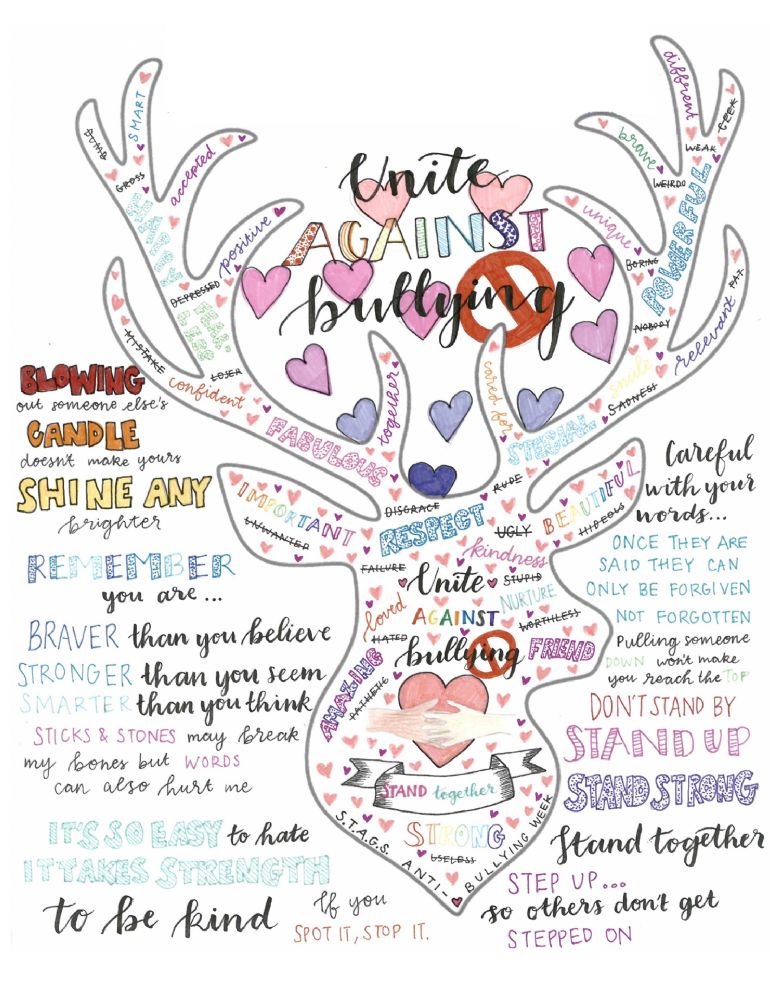 by Mia Aikman, 9J
---
To have due regard for someone's feelings, wishes and rights,
Is the full definition of respect,
And everyone whom it is shown to smiles,
Having a direct effect.
It's not to say no one's mean,
Because I know you'd all disagree.
But respect is something we should all show,
That I can guarantee.
And though here we get the best of it,
Everyone can still improve,
And if you think I'm completely wrong,
Then this is something I'd like to prove.
By saying a simple 'how are you?'
Can brighten up someone's day.
And saying 'please' and 'thank you' too,
Though you should do that anyway.
Having simple respect for people,
Like listening when you are told,
Being kind when someone else is sad,
Or simply being bold.
I hope by now I've helped you,
To think and recollect,
About kindness and consideration,
Because at STAGS we choose respect.
by Coralee Holder, 10C