Drama Department News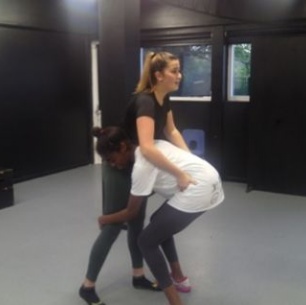 On Monday 5th November the A Level drama students were lucky enough to take part in a workshop led by one of the 15 practitioners from the acclaimed theatre company 'Frantic Assembly'.
This was organised by the Drama Department to aid the process of our A Level Devising performance. Michelle, the practitioner, taught us a range of building block skills and lifts that can be applied into our own performance. These included techniques such as 'pocket lifts', 'squeeze duets', 'pushhands' and 'clamp lifts'. After being taught these building blocks, we choreographed our own routines and changed the story with movement and focus. We found it to be an enjoyable experience that will hugely influence how we utilise movement in the future.
The A Level Devised Performance will take place in May 2019.
Freya White, 12.4 and Lottie Reeves, 12.5 - Drama Prefects