Set Design Club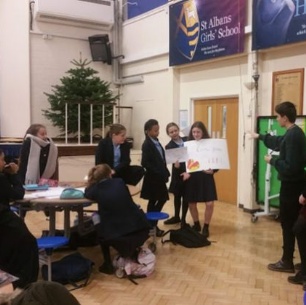 Set Design Club offers a fun and expressive environment in which Key Stage 3 students can both design and build sets for the STAGS production of 'High School Musical'! The Club is directed by a small team of sixth-formers, Sophia and Samira, who carry out enjoyable and productive set design tasks with our creative Year 7, 8 and 9 students.
The sixth form leaders, who are partaking in the Silver Arts Award as part of their super-curricular activities, have introduced this Club in order to expand the STAGS artistic community and promote creativity within learning. This Award also involves the development of team-building skills as well as artistic exploration and leadership.
Through attending this Club, students are given the opportunity to work with new media and materials alongside their friends, as well as working on a much larger scale. The fact that it is informal and lead by art experienced sixth-formers will make it a pleasure to learn as it allows freedom to create, discover and build, thereby materializing students' own ideas. What is of most importance to the us is that the students attending the Club gain an understanding of how ideas are brought into fruition on stage and that every child will be included, feel valued and assisted. Everyone is going to have a say to see this work come to fruition, in addition to gaining a sense of achievement and satisfaction, not just from an academic paper, but something three dimensional created with their own hands.
For those interested in attending, the Set Design Club meets from 3.30pm to 5.00pm on Mondays after school in the Main Hall. The team would love to welcome some new members!
Wild Cats! Get your head in the game!
Samira Hanchaoui, 12.3 and Sophia Laycock, 12.4