Chanukah in the Hall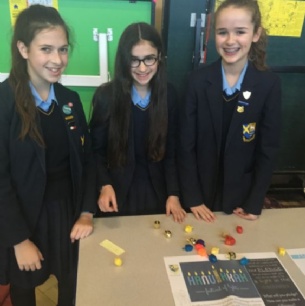 On Monday 3rd December, J Club celebrated the festival of lights - 'Chanukah' - with the whole school in the Main Hall. Around 100 students and staff attended this event and wrote pledges explaining how they can bring light into the darkness, supporting this idea of the festival.
Once this was completed they were awarded with a jam doughnut, which is a Jewish custom to eat on Chanukah (along with other oily foods). This is because of the special miracle that occurred when a small amount of oil lasted for eight days instead of one. This allowed students to explore the Jewish culture and experience it in a new way. There was also a traditional 'spinning top' toy (dreidel) on offer, giving the opportunity to play/spin one. It was a very engaging and insightful experience.
We wish the whole STAGS community a Happy Chanukah. Chag Sameach!
Sadie-Belle Blakeley, 9H
Safira Gilbert, 9J
Maddie Howlett, 9H