Eco Council Update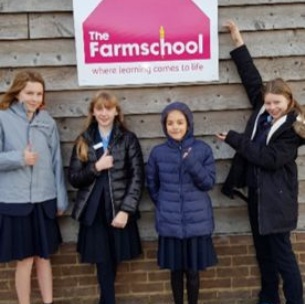 Eco Council Reps have enjoyed getting involved in a number of projects this term including Switch Off Fortnight, meeting with the Governors when they visited on Governor Day to discuss projects, promoting battery recycling, running a stall at the Winter Fair and putting together proposals to reduce waste in the Dining Room which we hope to take forward in January.
SWITCH OFF FORTNIGHT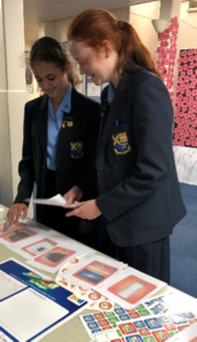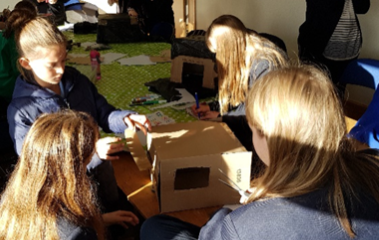 According to the Energy Saving Trust a PC monitor left on overnight can waste enough electricity to laser print 500 pages, and leaving a computer on overnight for a year creates enough C02 to fill a double decker bus. -The Carbon Trust
KS5 Green leaders along with 22 Eco Reps ran a stall in the main foyer over the two weeks in November to raise awareness of the importance of conserving energy through activities such as 'gas guzzlers', quizzes and interactive games. There is much discussion globally about the impacts of climate change due to greenhouse gases so at STAGS we are trying to do our bit to reduce our impact. Reps have been busy putting 'switch off' stickers on monitors and light switches around the school and are reminding staff and students to be more mindful about turning electrical appliances off when they are not in use.
SUSTAINABLE SCHOOLS DAY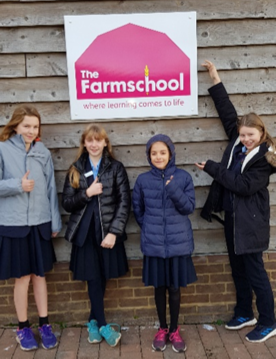 On Monday 19th November, four Year 7 Eco Reps attended the annual Sustainable Schools Day organised by Sustainable St Albans at the Harpenden Farm School. This is what Louisa West in 7J took from the day:
"We discussed with other schools what we all do to be sustainable, which really helped with ideas of how we could make our school even more eco-friendly. Then we watched a presentation about pollution and how it affects the environment and created posters to tell parents and bus drivers to turn off their engines when they stop outside school. Later that day, we created hedgehog homes and spoke about water use and energy use. To finish, we were taken on a tour on a tractor around the farm.
Overall, the day was great fun and we were given important information to bring back to school to help in the future. For example: We can create more hedgehog homes for our field, reduce the amount of plastic bottles at school by selling more attractive 'STAGS' water bottles and make people aware about how much pollution is created by cars."
WINTER FAIR: FAIRTRADE GINGERBREAD STALL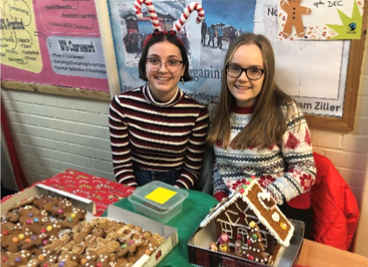 KS5 Green Leaders took the lead and ran a Fairtrade Gingerbread stall at the PTA Winter Fair on Sunday 9th December. They made beautiful gingerbread men to sell using Fairtrade ingredients and created a stunning gingerbread house as a prize for the person who could correctly guess the name of the gingerbread man. Hannah, Fran, Naree and Daisy did a fantastic job of organising and running the stall as well as promoting Fairtrade ready for Fairtrade Fortnight in February, and raised around £50.
Thank you ladies for all of your hard work!
Mrs Nottage, Eco Council Leader and Teacher of Geography