STAGS Radio Club Takes to the Air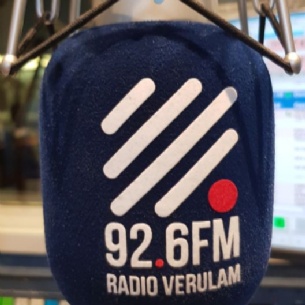 The STAGS Radio Club made their debut on 92.6FM Radio Verulam, Friday 21st of December at midday. The STAGS Radio Verulam Takeover is a one hour programme written and presented by our pupils. The show was heard on 92.6FM in St Albans and the surrounding area, online at https://www.radioverulam.com and on mobiles and smart speakers via the TuneIn app by searching Verulam. It will also be repeated on Friday 28th of December at midday.
The show includes an interview with Mrs Chapman, a report on Christmas Crackers, a local panto review, the latest STAGS news and a selection of seasonal and current music.
The programme will be available for 7 days after each broadcast via the Radio Verulam Listen Again service.
The students involved in the show are Anisah Choudhuri 10S, Scarlett Burgess 9J, Sophia Pole 9J, Milena Zolynski 8C, Atsooa Nisari 8C, Madison Green 7A, Maleeha Khalid 7A, Lizzie Ramsden 7A, Eliza Cambei 7C and Katy Manson 7C.
The Club will continue to meet on Mondays next term in Room 40, lunchtime.
Mr Seabrook, Teacher of REP