Netball News!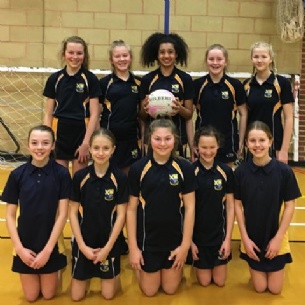 It's been a busy Netball season at STAGS since we returned from the festive break. Students have been attending PGL training on Fridays after school in preparation for the Netball Tour and Tournament in March. Tour Information Evening at STAGS is on Monday 11th February - please join us.
2019 has seen Senior training opened up to Year 10s to develop the pathway into more challenging netball and this group of students have been training weekly. Thanks to Miss Brock who has supported the students at both training and matches, even bringing along edible goodies for encouragement!
This new layout for netball at STAGS has already proved a positive experience for Year 10 student Jenny Laird who played for the Seniors against Beaumont in a close battle and earning her bib for the final quarter where she was instrumental to the team's superb performance. The Seniors had to work extremely hard in the Cup match against Beaumont as it went to extra time after a 13-13 draw at full time. Without doubt the team rose to the challenge together, demonstrating incredible determination but unfortunately time was against them and we lost 14-15. It is the first time STAGS has entered Senior netball in approximately 5 years and to come out as District Plate Runners Up is a fantastic achievement and we look forward to strengthening the squad next year.
U12 Netball has been a regular occurrence with 4 inter-school matches to prepare students for court time against other schools, 3 league matches against local schools and 1 Cup match for St Albans and Harpenden District. The Year 7 team now prepare to take on Loreto in the Plate Semi-final on Thursday 7th February. The last time these two sides met, it was a draw so we look forward to the contest and taking the victory this time round.
Huge thanks must go to Jenny Laird, Karla Rees, Maddie Bye and Libby Chambers who have supported the U12 training and matches, coaching and umpiring on a weekly basis. Without these students Mrs Warner and myself would not be able to provide the opportunities to the 50+ year 7 students who play netball at STAGS.
(Photograph from the 10-6 win over Marlborough on Thursday 24th January)
Miss Rose, Teacher of PE