Rotary Youth Speaks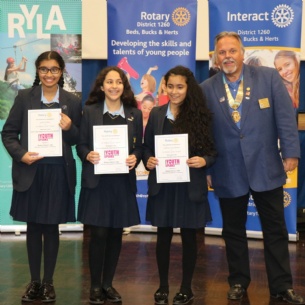 STAGS students make the final!
You will recall the success of our Public Speaking team at the Preliminary Round of the 'Rotary Youth Speaks competition'. On Tuesday evening the team (Wissal El Amrouchi, Sabrina Choudhury and Leah Salhan) participated in the Semi-Final event at Barnwell School in Stevenage. Semi-Finalists included 8 teams from Schools within the Bedfordshire, Buckinghamshire and Hertfordshire District. The team's performance on 'Why Western Countries' should accept refugees' was judged to be 'Outstanding' and they look forward to the next stage of the competition on the 26th February.
The team should be immensely proud of their success; this is the first time in the last 4 years that we have had a team progress to the Final.
Good Luck girls!
Mrs Sharp, Lead Practitioner for Film and Media