GB's 1500m Runner Maisie Boast visits STAGS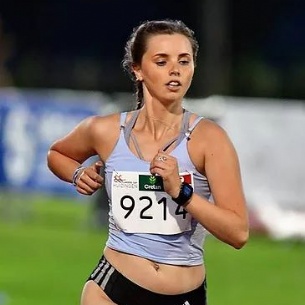 Maisie Boast visits our Year 8 students
On Friday 8th our year 8 students received a visit from GB athlete Maisie Boast. Maisie is a 1500m track runner from Horsham Blue Star Harriers athletics club, and now trains in the EPACC training group at St Mary's University.
Maisie's biggest achievement to date is competing in Belgium, Brussels at the Flanders Cup in 2018. In 2016, Maisie won a bronze medal in a 5km women's race in Belgrade, USA. In 2014, she was the silver medallist for U20 women in Sussex. Maisie has represented her university at BUCS indoors and cross country. She has competed at local, regional and national level on both the track and cross country. Over the years, Maisie is fortunate to only suffer from minor injuries, but with determination, this didn't prevent her from setting her goals high and coming back stronger and faster than before.
Maisie graduated from Oxford Brookes University with a BSc in Sport and Exercise Science, and is now doing at MSc in Exercise Physiology at St Mary's University, which she finds useful in expanding her knowledge on the track.
Look out for more information from the day in this weeks STAGSLINK.