Oxfam Youth Ambassadors lobby local MP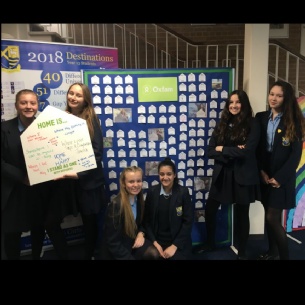 Please enter an introduction for your news story here.
The Oxfam Youth Ambassadors have been running a campaign in support of refugees reuniting with their families. The 'Home is' campaign was run throughout the school week, asking students to write what home means to them.
We have so far collected over 300 messages, which will be given to our local MP, Anne Main, in order to convince her to stand for a change in the Family Reunion Bill, in order to keep refugee families together.
With the support of many young people speaking out, Anne Main may feel pressured to listen to our opinions and stand for change. We hope that change does happen and that people can be rightfully reunited with their families.
Abby Farnsworth 10J, Eschal Najmi 10J, Jasmine Price 10J, Lucy Schalkwyk 10J, Samiha Thaker 10J, Oliwia Maslany 10H