Bestselling Author Karen McCombie Visits St Albans Girls' School!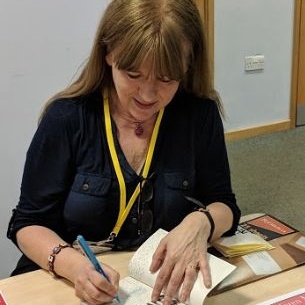 Meet the Author and Be Inspired to Write!
Voted Children's Book of the Week in both The Times and Sunday Times and The Telegraph's Best Children's Book so far..
As part of our many World Book Day 2019 celebrations, on Friday 8th March, STAGS was thrilled to welcome bestselling author Karen McCombie.
Karen gave an inspiring talk to students from Years 7 and 8 about her passion for writing and how she got started as an author, followed by a wonderful talk about her latest book 'Little Bird Flies' - her 93rd book!
We were also delighted to welcome students from Heathlands School, keen fans of Karen's who were able to meet her personally before the talk.
After answering many questions from the students, Karen signed copies of her books and talked with students who queued to meet this hugely popular author.
Karen commented later via Twitter: 'Thank YOU for having me. And hurrah for the good acoustics of your HUMUNGOUS sports hall!'
For more information, please visit: https://karenmccombie.com/author-events/