Stags Fishies Extravaganza!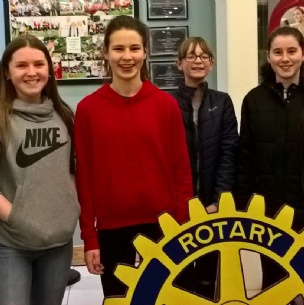 Last Saturday 6 members of the Stags Rotary Interact Club; Christel Fernandez – Lecanda, Emma Langford, Anisah Choudhuri, Emma Thomas, Ellie Heeps and Pippa Wilton participated in a Swimathon held at Westminster Lodge in St Albans by Rotary International to raise money for Herts Young Homeless.
Our team which was named STAGS FISHIES, claimed the Rotary record for the most 25m lengths swam in 30 minutes. In total our team completed a whopping 210 lengths of the pool! Over £200 was raised thanks to everyone who sponsored our team members.
After the event we got the chance to meet the former mayor of St Albans, Annie Brewster and enjoyed some Ribena and biscuits whilst having our photo taken with her.
We would like to thank Lavinia Hale and Ken Smith from Rotary Interact for supporting us at the swimathon and helping organise the event.
If you would like to join the Stags Rotary Interact club, we meet in the Innovation Centre every Wednesday to organise charity events.
Emma Thomas 10A (Team Captain)