Thisbe Danford Qualifies for England Fencing Team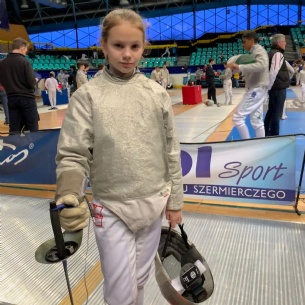 For the second year running, Thisbe's performances across national tournaments earned her selection to the England Fencing team, who competed this weekend at Challenge Wratislavia - a 5 day youth international fencing tournament held annually in Wroclaw, Poland.
In Thisbe's category, Under 13s Girls Sabre, there were 101 competitors from around the world. They were split into poules of smaller groups and fought each other to arrive at a seeding for the knockout stage. Thisbe was in a poule with girls from USA, Germany, Poland, Scotland and Belarus. She won 4 of her 6 fights, which earned her a ranking of 31st place, meaning that she made the cut for the 'Direct Elimination' stage.
In a hard fought battle, she narrowly lost 12-10 to her Polish opponent and was knocked out of the tournament. Although disappointed not to progress even further, it took nothing away from the achievement of representing her country and being very competitively placed among some of the best young fencers in the world.

Well Done Thisbe - amazing achievement.