First Give Final 2019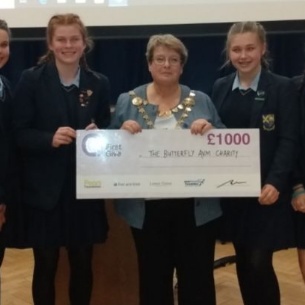 Please enter an introduction for your news story here.
Tuesday 30th April, saw the culmination of 3 months of planning, practising, social actioning, awareness raising and connecting with seven local charities. The whole of Year 9 have been involved with the process but each form were represented by a small team in the public final.
First Give are a charity who facilitate young people getting involved with understanding social issues and helping them to realise that all of us can make a difference. The students, guided by the PSHCE staff and members of First Give, participated in a morning of activities back in January and since then have been working together to raise awareness and the profile of seven local charities: Versus Arthritis, Youth Talk, Action for Children, Young Women's Trust, Ollie Foundation, ADD-Vance and Butterfly AVM Charity.
In Tuesday's public final, teams from each form gave a 5 minute presentation about the social issue, the social action they carried out, the work of the charity and what the charity would do if they won the £1,000 prize money, awarded by First Give.
The students made presentations that any professional would have been proud of, they were clear, confident and concise. They blew away the judges with their informative, passionate presentations, giving our judges a very difficult job indeed! This year's judges were Mrs Chapman, Miss Rose (Director for Learning, Year 9), Sarah Kropman (Head of Girls' Football at St Albans City FC), and the Mayor of St Albans, Rosemary Farmer.
After a long deliberation, the winner was announced - Butterfly AVM Charity. The winning team were 9F, represented by Penelope Chrysanthou, Ria Sahota, Ciara Soulby, Chloe Harrison, Milly Drury and Cara Threader. You can find out more about the winning charity at: http://www.butterflyavmcharity.org.uk/
Well done to the whole of Year 9 for their commitment to the process and for creating such a buzz about school and raising awareness and some funds for each of the charities. The students are encouraged to keep their ties with their chosen charities, so expect to hear more from these motivated young ladies in the future.
Mrs Wheatley, Curriculum Leader PSHCE