STAGS Students awarded 'Suprema' title at Chess Megafinals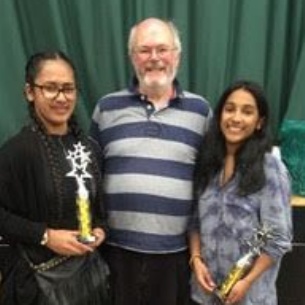 'Suprema' title awarded to Nadia and Zahra Jaufarally
Year 8 and year 10 students Nadia Jaufarally (10S) and Zahra Jaufarally (8S) recently entered the 'UK Delancy Schools Chess Megafinals' Competition. Held in Harpenden on Saturday 4th May 2019, both did amazingly well to win the title 'SUPREMA' in their age category.
Nadia scored an impressive 5.5 out of 6 games in the Under 18's and Zahra scored an impressive 4.5 out of 6 games in the U13's.
Michael Flatt; Chairman of HSCA (Hertfordshire School Chess Association) presented othe girls with their trophies.
Well Done Both!