Welcome to our Wellbeing Guinea Pigs!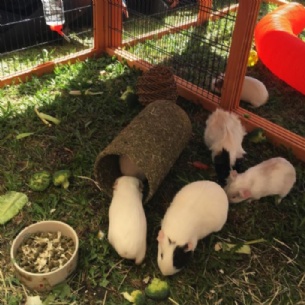 Hello Jane, Charlotte, Marie, Rosalind, Barbara, Amy, Mary and Rosa....
On Monday, we welcomed 8 new additions to our community - Jane, Charlotte, Marie, Rosalind, Amy, Rosa, Barbara and Mary. There is overwhelming evidence that animals are good for mental health and wellbeing and we very much hope they will be a source of pleasure for our students.
We already have 50 students signed up for animal club, so they will be well cared for. In the first couple of weeks they will only be handled by staff, until the students in animal club have been trained in handling them. At the moment they seem very content in their new hutch and run, chasing around and eating plenty of fresh vegetables. Please be assured that their welfare is paramount and we are being well advised on their care.
Ms K Thomas, Deputy Head