Library Resource Centre - CILIP Carnegie Year 8 Shadowing Committee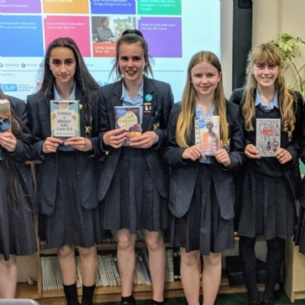 Our Shadowing Committee of Year 8 students has been delving into these great reads nominated for the prestigious CILIP Carnegie Medal. The winner will be announced on Tuesday 18 June 2019 at a special daytime event at The British Library, and Shadowing Committees from area schools will convene at Beaumont School for the big reveal!
Learn more about this year's eight nominated books, the authors and their inspirations at: https://www.carnegiegreenaway.org.uk/watch.php
Here are some recent reviews from Committee members, Samantha Farnsworth and Sophie Kelly:
Things A Bright Girl Can Do by Sally Nicholls
This book was very thought-provoking and touched on deep problems that are still present in our society today. It was highly enjoyable and gave me incredible insight to the lives of young women then and how lucky we are now. It really got me thinking about how difficult their lives must have been and made me more appreciative of their sacrifices to get the vote and equal rights for women. It also explained LGBTQ+ rights and how those people struggled then and reminds us of how far we still have to go. This is an incredible book and I would highly recommend it to any lovers of historical fiction and real life problems. Samantha Farnsworth 8J
Bone Talk by Candy Gourlay
Bone Talk is about this boy called Samkad who wants to become a man and carry a sword and shield. It's also about finding out who your friends and enemies are and not falling into traps of others. At first, I didn't think that I would like the book because of the title but when I started to read it, I thought it was really interesting. It is beautifully written and teaches you about culture. Also about the past and different cultured opinions on girls and what they should be doing. Luki, who is Samkad's best girl friend, thinks girls shouldn't have to wear a skirt and should be able to do everything boys can do. I would definitely recommend this book to all and even if you don't like it at first, keep going because you might surprise yourself and enjoy it like me.
Sophie Kelly 8J