Year 8 Visit to Desvres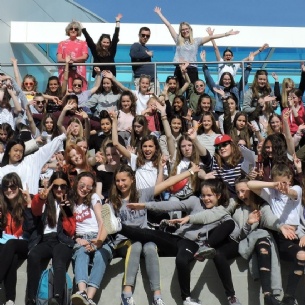 4 Day Language Immersion Experience for our Year 8's
During the half-term break it was my pleasure to accompany 77 students and 7 teachers to France for a 4 day Language Immersion Experience.
We stayed in the pretty Moulins aux Draps hotel, surrounded by rolling countryside just outside the town of Desvres. Only an hour after arriving, students were engaged in working out clues to a scavenger trail around the town in groups, which soon became highly competitive!
Day 2 we were shown how traditional French bread and croissants are made at a small boulangerie, challenged ourselves to complete transactions in French by shopping in a large supermarket and array of smaller boutiques, and had a great time at Hardelot beach with a sand sculpture competition! During the evening we enjoyed a talent show before bed.
On Friday we visited the largest Allied war cemetery in northern France, followed by a challenge to buy the best picnic ingredients for lunch at the market in Etaples. In the afternoon we were treated to a presentation on snails and got to handle and taste snails before returning to the hotel for a 5 course dinner and disco! Our last day was spent at the impressive Nausicaa sea-life centre and in Boulogne old town, before our journey home.
It was great to see the girls so engaged in all of the activities and willing to speak in French to the animateurs - local townspeople and stallholders. Everyone at the hotel and both coach drivers were impressed with their behaviour and cleanliness, and declared our girls some of the best they have ever had on a school trip – high praise indeed! They did themselves, their parents and STAGS proud. I hope they retain many precious memories and new friendships for many years to come! I thoroughly enjoyed taking you all. Thank you for being such an amazing, positive and proactive group!
Miss Cusworth - Teacher of MFL