KS3 Push Challenge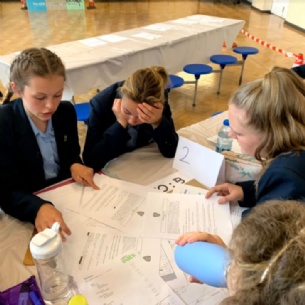 Please enter an introduction for your news story here.
Last Tuesday, 71 PUSH KS3 students were challenged with solving an investigation. The students started the day by honing their detective skills with a variety of activities where they got to develop their critical thinking and problem solving abilities, as well as kicking off the competition by coming up with the most inventive team name. The students then moved onto their investigation and endeavoured to 'solve the case'.
The case involved a stolen necklace and trying to track the clues through a variety of evidence stations to find the culprit. Students moved through different evidence stations where they had the opportunity to investigate different items that would help them discover the most likely suspect. The evidence ranged from paparazzi stories to witness statements, allowing the students to be fully immersed in the investigation!
The students then gathered all their findings and presented their decision as to who was the prime suspect and why. Points had been given throughout the day for those groups who truly showed their critical thinking skills, as well as their team working abilities. These all culminated in the winning team, "the best crime solvers of all time", taking the PUSH Challenge Trophy.
The students were incredible as detectives and the case is now closed!
Some thoughts from the KS3 detectives:
"I had fun and enjoyed all the activities that were set, including the ones where we had to find out things about others in my group."

"It was a fun concept and the idea was good. You could tell the teachers put a lot of effort into trying to make the day fun for us."

"It was great working with other years and getting to know everybody and do challenges together."

Miss S Taylor & Miss J Ryall, PUSH Champions