PRIDE+ Welcome New Members!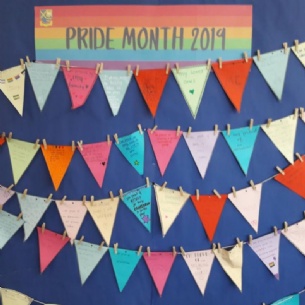 Please enter an introduction for your news story here.
We are PRIDE+, a club aiming to raise awareness for the LGBTQ+ community at STAGS. Since our formation in 2016, we have run charity events selling rainbow laces to promote inclusivity in sport and discussed current affairs and social issues at club meetings. In the summer of 2018, we saw Kinky Boots, a musical being shown at the London West End, as a club activity. Our main focus is to provide a safe space for students in the LGBTQ+ community but we welcome all students in Year 10 and above who wish to support togetherness, equality and acceptance throughout the school. For Years 7-9, Sixth Formers run AmnesTEA club, where they focus on exploring human rights and equality. We would love to have some new fresh faces attend club meetings to help us spread awareness of the LGBTQ+ community and to provide a friendly environment where diversity can thrive.

This year, we have arranged a movie night on the 17th July, the film being 'Love, Simon'. On Tuesday, we also welcomed KS3 to a tie-dye workshop with Miss Hewitt as well as encouraging all students to come to school on Friday 5th July with rainbow accessories. PRIDE Month is celebrated globally during the month of June and we welcomed everyone in the STAGS community to join in and celebrate things that they were proud of!
Milla Waldron & Katie Cobden, Year 12, Pride+ Leaders