Heart Dissection for A-Level PE!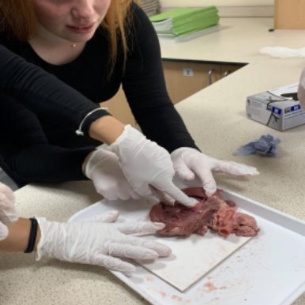 Last Monday, the A-Level PE class had the opportunity to participate in a practical heart dissection, in which we closely observed the chambers, valves, vessels and overall structure of the heart. It was an excellent experience as we were able to link this to our recent learning about the cardiac conduction system. More interestingly, we were able to handle the heart and differentiate the left chambers from the right chambers by feeling the thickness of the cardiac muscles.

This lesson was thoroughly enjoyed by everyone in the class. Amelia Furley (12.2) gives her account: "Interactive and fun. A great revision tool as we got to practically apply our knowledge from lessons!"

Gemma Hanson explains how this experience will benefit her: "It was amazing! I now think I will be able to recall and visualise the structure of the heart easier in an exam."

We give our thanks to Miss Rose and Ms Harper for an informative and enjoyable lesson!
Lucy Jordan-Caws (12.1)