Senior Netball - County Cup Success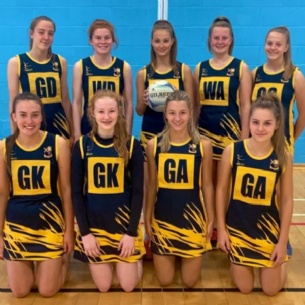 On Tuesday 1st of October, the STAGS Senior netball team had their first County Cup game of the season against Dame Alice Owens - an excellent, well-rounded team.
Our team started off the first quarter strong, with all our players making clean interceptions, enabling us to take a lead. Even though most of us had not played together before, the ball travelled smoothly down the court and soon we were comfortable playing with each other. At the end of the first quarter, we were winning 8-4 and we all wanted to improve this lead in the second quarter. After a few positional changes, we all went back on the court, trying our hardest. Our attack was strong and fed the ball into the circle well and our defence stuck to their opposition and chased the loose balls down, enabling us to do lots of turnovers, resulting in more goals scored. At the end of the second quarter, we had increased our lead by 7 and the score was 20-9. The next two quarters went well, with all of us making strong passes and doing preliminary moves. The final score of the match was 30-22 to STAGS.
The opposition's player of the match was Millie Drury who played WD and Miss Rose's player of the match was Cora Hudson who played GA. Our team worked well together under the pressure and we are now through to the next round of the County Cup. For more updates, follow @STAGSPE.
Miss C Rose, Teacher of PE