Author 'Helen Dennis' Visits STAGS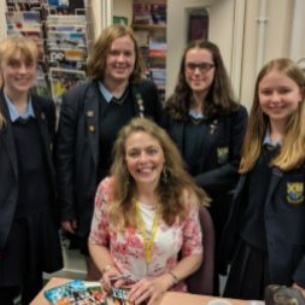 Please enter an introduction for your news story here.
On Thursday 24 October, we were delighted to host the award-winner writer of the Secret Breakers and River of Ink series - Helen Dennis. A select group of Year 8 and Year 9 students were invited to the talk, due to their outstanding achievement in the Accelerated Reader program and passion for reading.
Helen enthusiastically discussed her childhood in Brighton and drive for becoming an author, reminiscing on her time spent in the family's tiny garden shed [well, former outhouse really!] and fervently writing her very first full-length novel - Not Just an Ordinary Girl. As a young girl, she relished the ability to be 'in charge of the whole universe' and harnessed the powers of her imagination and writing skills to do just that. Helen went on to share her inspiration for writing the Secret Breakers and River of Ink series and was very engaged with the audience, inviting students to experiment with the many encryption devices and ciphers she had brought along, including an authentic scytale. She also discussed the use of symbols and hidden messages, the elixir of life, and encouraged the audience to think hard about the ethical and practical, implications of immortality.
Following the talk, students purchased autographed books of Helen's and had the opportunity to meet her personally. It was an exciting and inspiring afternoon for all.
Library Resource Centre