STAGS Students honour Armistice Day at the Cenotaph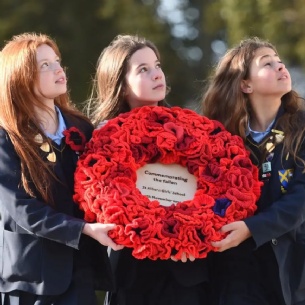 STAGS students were honoured to lay a wreath at the Cenotaph to mark Armistice Day
STAGS was honoured to be invited to lay a wreath at the Cenotaph on Armistice Day (Monday 11th November) as part of the Western Front Association Annual Act of Remembrance. Ruby, Madison, Esme, Alex, Rebecca and Mia - students from Years 7-12 - were accompanied by Mrs Chapman, Miss Bowman and Miss Miles to represent the STAGS community who have been involved in the production of our wreath (the knitted and crocheted poppies created by students, staff and family members). Our wreath clearly turned heads and caught the attention of the press as we were often the subject of the photographers' lenses.
The behind the scenes organisation of the event was interesting to see, before the group comprising school children, cadets, veterans, and dignitaries moved onto Whitehall for the two minutes silence at 11am.
The whole experience was amazing - to have silence in such a busy city and then to see the groups laying their wreaths with such respect shown to the fallen was very moving. The crowds watching the service (including those in government buildings surrounding the Cenotaph) were very pleasing - as it showed that commemoration of the sacrifices of the conflicts of the 20th and 21st Centuries is still very relevant to today's society.
'The nation which forgets its defenders will itself be forgotten.' Byzantine Emperor Maurice
Miss T Miles, Teacher of History