Explore Learning Mathematician's Award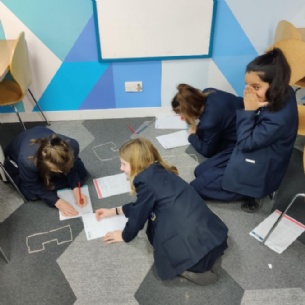 Mathematicians go Exploring!
Last Thursday (16th January), Aditi Jha, Anna Foster, Daisy Murley and Zoe Zatco in Year 7 went with Mr Hughes to participate in the Explore Learning Mathematicians' Awards. It is a team competition and hundreds of schools take part. A rival team of four Year 8 boys from Nicholas Breakspear School were taking part at the same time, but the STAGS girls were feeling confident and worked hard throughout.
The challenge involved creating shapes according to a pattern and trying to find all the possible combinations of area and perimeter. The teamwork was amazing and the girls gave a fantastic presentation at the end explaining all of their findings and handing in a paper summary. Only five secondary schools will be selected for the grand final, so we will wait and see if we have qualified.
Daisy Murley (7H) and Mr Hughes (Mathematics CL)