Languages Live Event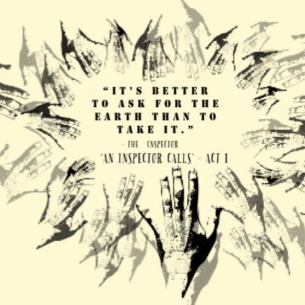 Salima Ahmed (10B) won an online English competition. We are so proud of her efforts and her representation of the school.
Miss K Keogh, English Curriculum Leader
As I was revising for an English exam, I stumbled upon a new video by a popular YouTube English tutor, Mr Bruff. He spoke of a competition sponsored by Adobe Spark to create a poster using a quote from a novel you've studied at school. I decided to enter for fun and chose the quote "It's better to ask for the Earth than to take it" by the Inspector, because of all the technique-ridden quotes useful to remember for future exams, this quote has stayed in my mind ever since we first encountered it as a class.
Perhaps it was because considering everything in the news recently, it's important we know that the Earth shouldn't be perceived as a possession by certain people in this world. The hands encircling the quote represent the metaphoric hands of people in our world who do perceive the Earth as a possession, people of different levels of power - represented by different opacity levels – who claim the right to control people on this Earth as well as gravely affect the well-being of our planet.
Recently, I received an email stating that I was one of the winners of a £20 Amazon Voucher and I'm ecstatic to find that Mr Bruff and the people at Adobe Spark loved my idea for this quote!
Salima Ahmed, 10B