Holocaust Education Week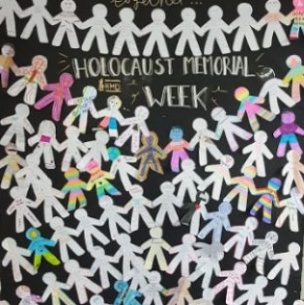 Please enter an introduction for your news story here.
Last week, the whole School community participated in Holocaust Education Week, focusing on different minorities who faced discrimination in the past as well as today. The Social Action captains were instrumental in determining the vision for each year group at STAGS, and Naomi Herodotu has shared her reflections:
"This year we focused on the theme 'Stand Together' throughout Holocaust Education week in January, promoting the idea that each individual persecuted during the Holocaust had their own personal identity, which should never be lost. To raise awareness and education, the whole school participated in creating a board by decorating cut-out figures holding hands, to represent each of the various minority groups that were persecuted during the Holocaust.
During Form Time, each year group was taught about the horrific treatment their minority group experienced in Nazi Germany, which in some cases are still occurring around the world today.
As Social Action Captains, we wanted to spread awareness about the mass atrocities on different minority groups that were considered 'subhuman' under this fascist rule; The Jewish Community, The Black Community, LBGTQ+, Mentally and Physically Disabled and Romani Gypsies.
As well as this, students were asked to write what 'Stand Together' means to them; prompted by the examples given by the Holocaust Memorial Day Trust:
Assisting persecuted people, Standing together in resistance, Speaking out against persecution and challenging marginalisation, Standing together against rising division and hate, Standing together to support those in need, Standing together in memory of people who were persecuted.
We strongly believe it is important to stand together despite our differences and celebrate diversity, in order to resolve the division in our society."
Year 9 students were also privileged to have the opportunity to listen to Martin Bandel, the son of a Holocaust survivor, who shared his father's story. The look on their faces whilst Martin talked about his family's experience showed the impact of hearing 'history'. The difference it makes to being part of one person's story, as opposed to the distance that facts and statistics can bring. I taught a Year 9 history lesson following Martin's talk and the level of discussion and questioning was incredibly poignant and insightful:

"It was only after I was sharing what I had learnt at school this week when my parents told me that my great grandfather was in the Holocaust. Just as we have been studying it, I found out that in one school in Germany, they did a project and presentation on my family. It made it so much more real. They discovered that there are these stones in the ground outside where they lived. They are supposed to trip you any people walking by so you remember the family name 'Ball', where they went to and the ones that passed away. That really struck me"
Kristina Ball, 9F
I think the theme 'Stand Together' is very powerful, with everyone talking about it making sure you remember. The numbers lost in genocides are horrific, yet the memory needs to be remembered now and in the future. Hearing about the survivors and conditions brings us closer and gives us more insight and realisation; creating a sense of standing together and being there for each other, whatever race, nationality or gender."
Nixie Kibbey, 9F
In addition, our weekly J Club community also shared their thoughts in our discussions on Anti-Semitism and reflections on the Holocaust and current acts of persecution this week and came up with three simple quotes which I believe underpin a message of hope for the future…

"In a world where everyone is an outsider: Stand Together"
"All club together to make the world a better place"
"Stand Together, be proud - speak out for your views out loud"
Evie Blakeley 7H, Sadie-Belle Blakeley 10H, Safira Gilbert 10J

It was, as always, a moving but important educational experience for all and I would like to thank both student and staff contributions with discussions in form times and in lessons to show that this is pertinent to all and relevant to today; not just something that belongs in a history classroom.

'Don't be content in your life just to do no wrong, be prepared every day to try and do some good.'
Sir Nicholas Winton, who rescued 669 children from Nazi-occupied Europe