Curiosity Club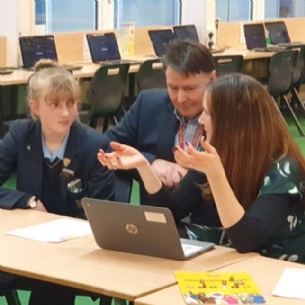 Curiosity club runs every Tuesday after school in the LRC from 3.20pm to 4.30pm. We would love for you to come along and join us on a journey of curiosity through different periods of time. We warmly welcome both Year 7 and 8 students so come along one week and find out more about curiosity club. Alternatively, email Miss Bews or Mr Mahoney if you have any questions.
We were lucky enough to be visited by John Gordon-Reid, the creator of Curiosity Club, last week. John was so impressed by the projects he saw and was delighted to be able to watch a presentation from one of our members.
Already this year so many students have produced wonderful work, from Archimedes Screws, to detailed posters, videos, science experiments and artistic drawings! Students put a lot of effort into their work and find it a great way to explore our world outside the usual curriculum. 'The challenges are enjoyable and I am constantly learning new things' said a Year 8 student. Another student agreed, ' The challenges are academic but still fun! I am constantly adding to my knowledge'. The seekers complete challenges and earn badges that are recognition for their hard work and don't forget all the house points and chocolate they receive in addition.
By Mariella Patel & Erin Marshall 9S (Curiosity Ambassadors)