The STAGS Radio Club - International Women's Day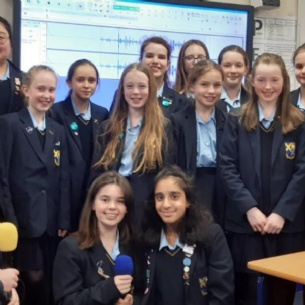 On Sunday 8th March, the STAGS Radio Club are taking over St Albans very own radio station 92.6FM Radio Verulam and will be presenting the Sunday Morning 'late' Breakfast Show - 'Good Morning St Albans it's Sunday'.
To mark International Women's Day, the pupils have written, produced and will be presenting three hours of radio celebrating Women. This will include a feature on Rosa Parks and a three hour playlist of songs by some fantastic female artists.
Tune in to Radio Verulam from 9am this Sunday Morning on 92.6FM or online via your smart speaker or via the TuneIn Radio app.
The pupils on air will be Amelia Mash 7C, Sophie Haskins 7C, Scarlett Robb 7C, Adara Brookes 7C, Lara Bennett 7C, Anna Foster 7C, Audrey Dart 7C, Lauren Smith 7F, Mini Xu 7F, Eva Saunders 7S, Sabrina Devji 8C, Nahia Alonso-Grau 8C, Emily Martin 8S, Sophie Ryan 8S, Holly Hudgell 8S and Phoebe Knowlden 8S.
Mr J Seabrook, Teacher of REP