STAGS attends Mulberry Girls School Youth Conference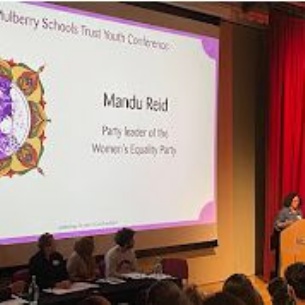 16 students from Key Stage 4 and 5 attended the annual Mulberry Girls School Youth Conference, it was their 20th anniversary this year!
The conference is on diversity and inclusion and this year it was about the issues of diversity and inclusion following the pandemic.
Manal and Seyfumni wrote the following about their visit:
Having been given the opportunity to attend the Mulberry Youth Conference, it allowed for a greater insight into intersectionality and the disparities people face accompanying it. Over the course of the day, we heard from very influential speakers such as Mandu Reid, leader of the women's equality party, David Neita, renowned poet and lawyer, along with many more talents. In hearing from these speakers, we were able to have a greater understanding of our impact as young voices along with the magnitude our active conversations hold. We further spoke about how we are able to use our voices in taking more steps to create a more equal world after the pandemic. At multiple points throughout the day we were able to share discourse with students from other schools on the effect of the pandemic on our day-to-day lives; overall it was a great and enriching conference and we were delighted to have attended.