Signing and Singing for the 35th Celebratory for Hearing Dogs at St Albans Cathedral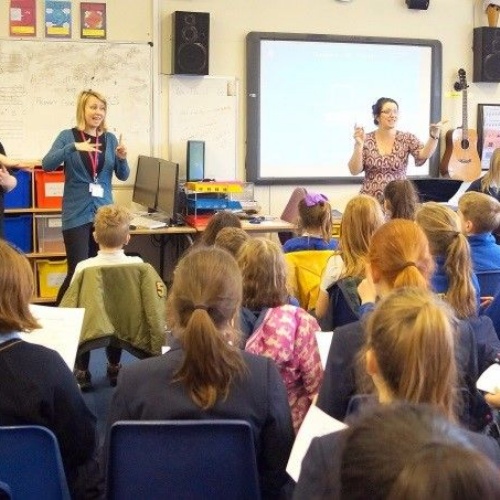 STAGS' Music Department were delighted to welcome the choir from Heathlands Primary School for the deaf on Monday 5 February. They joined voices together with STAGS choir members to rehearse songs in unison. STAGS choirs sang the notes and the Heathlands choir signed the words. The lunchtime rehearsal was held in preparation for a celebratory concert at the St Albans Abbey which will be held on Wednesday 21 February, 7pm – 9pm. The service is being organised to celebrate the 35th Anniversary of Hearing Dogs and to give thanks to all involved in the work of the Charity. STAGS choirs and Heathlands students will be joined by the Quorum Singers of St. Albans, and Welwyn Garden City Male Voice Choir. There will also be a dog demonstration team showcasing the work of the wonderful hearing dogs who give independence to those people who are deaf and hard of hearing.
This event is free to attend but tickets should be booked in advance and will not be available on the door. Tea and coffee will be served afterwards. This special concert will be broadcast live on Radio Verulam 92.6FM. For more information, and to book tickets, please see the website:
www.hearingdogs.org.uk/support/events/stalbans35/

We hope you will join us in supporting this event!