STAGS Team 'Unity' are Crowned 'Overall Winners' at the Dragon's Apprentice Final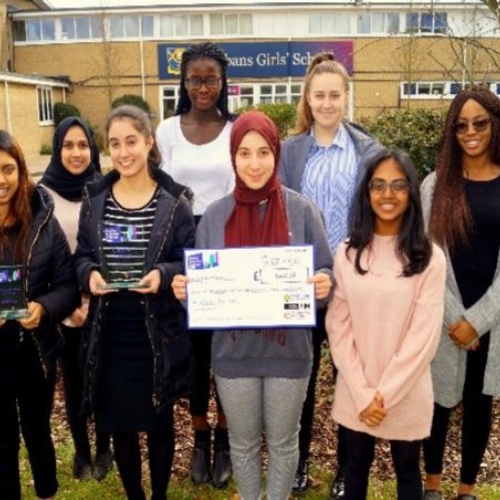 Congratulations to Dragon's Apprentice Team 'Accord', who have done incredibly well to win the 'Most Profit Made' having raised over £4,400 at the final which was held at the University of Hertfordshire on 19 March.
The annual Dragon's Apprentice Challenge is made up of teams from local schools, linked to a business mentor. Each team employs an initial £100 seed capital and aims to turn this into £1000 in four months for a local charity. Team Accord's funds will go to support the Citizen Advice St Albans District. Our thanks goes to the business mentor Johnny Shepherd from The Pudding Stop for all his support.
Our second group Team 'Unity' who also reached the final five teams and had to present to a large audience including the Super Dragon's did exceptionally well not only taking the prize for 'Best use of Social Media' and despite tough competition took the trophy for overall challenge winners. Team Unity raised a total of £2,658.96 for the amazing charity 'Small Acts of Kindness' and a big thank you to their mentor Peter Hubble from Digital Marketing Company 'FL1 Digital' for all his support and guidance.
Mrs Glanvill, Curriculum Leader of Business & Economics