OPALE PARLE - Year 8 French Trip 2018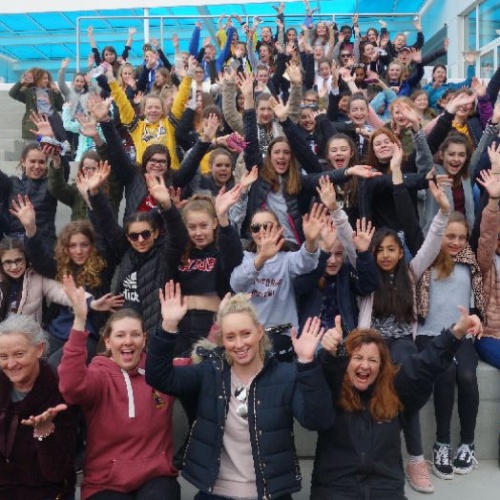 On Thursday 12th April, 74 excited girls from STAGS said "Au Revoir" to their families as they boarded two coaches for France. Even though it was quite an early start, we were all very excited for the trip. Once we had arrived in France and met our animateurs, we went straight away into our first activity which was the Devres town trail. This enabled us to learn about the town and improve our reading skills as we had to follow directions and find the answers to the questions in French.
After the delicious dinner, we prepared for the next day's activities. On Friday we took a trip to the Étaples Military Cemetery which contained over 11,500 graves from WW1 and WW2. It was shocking to see just how many graves from around the world had been brought together to create such a moving scene. After, we went to Étaples and purchased food for a picnic challenge. This helped with our French because we had to ask the stall owners for certain foods. In the afternoon, we visited the snail farm where we tried some of the creatures. What a delicacy! For most of us it was our first time and a lot of us were quite apprehensive about it. However, after trying them, many of us actually liked them! Next, we took part in a treasure hunt which helped us learn the names of objects outside. To add to this jam packed day, we did a French general knowledge quiz which let us learn more about the country! We began Saturday morning by visiting the covered shopping complex to buy French souvenirs. Shopping was later followed by a Boulangerie visit where we learnt how to make croissants and discovered how traditional hand-made bread is made. After trying delicious croissants and tasty pain au chocolats, we went for a picnic on Hardelot beach. It was here where the grand sandcastle competition took place! We had a variety of creations such as sand turtles, dogs and castles. Many of us also took part in a game of beach rounders! To celebrate our last dinner in France, we had a special five course meal! Then, the talent show held a wide range of spectacular acts showcasing skills such as singing, dancing, fashion parades and many more. We ended the day with an amazing disco with all our friends. On Sunday, after room inspections, we went to the Nausicaá Sea-Life centre and had an amazing time looking at the marine animals. We got to stroke stingrays and fish, saw seals swim and watched penguins waddle! The signs were in French which helped our reading ability. Then we had a picnic lunch in Boulogne Old Town and we got to explore the town on our own. After a long day, we went on the Eurotunnel and said "Au Revoir" to France and "Bonjour" to England. We would definitely recommend this amazing trip to any Year 7s wanting an adventure!
By Millicent Drury, Amy Westlake and Ebony Spinks, 8F
As trip leader, I just want to add that the girls were an absolute credit to their parents, the school and themselves, with regards to their behaviour, their attitude to learning and enthusiasm. As a result, they received many compliments - From Francois and his team at the hotel, the snail farm and bakery owners as well as some local people. Everyone impressed us with their willingness to get involved, listen to long explanations in French (who honestly knew snails were so fascinating?) and speak to local people to buy items and work out clues to a treasure hunt. Nearly everyone was adventurous enough to eat snails, everyone just got stuck in and hopefully had a trip they will never forget and full of happy memories. It was great to see the girls' confidence and language skills grow over the four days away. Thank you girls - You were AMAZING! Thank you also to the teachers who accompanied the students (Mrs. Buckley, Mrs. Hewit, Mrs. Mehta, Miss Caddey, Mrs. Barry, Miss Hewitt and Miss Hussain) It would not have been possible without you.
Miss Cusworth,
MFL Teacher