Year 11 students Inspire Year 8 Readers to Escape to Another world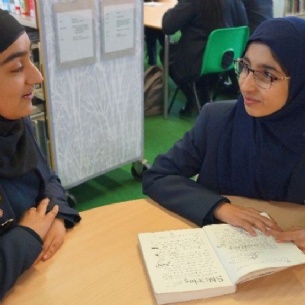 Every Monday lunchtime at STAGS, Year 8 students enjoy reading together in the Library with a volunteer Year 11 mentor. The aim of the club is to encourage students to study characters in a book and to pause and discuss word meanings. In addition, Year 11 mentors help students to look forward into the future and begin to anticipate and predict possible future events that may happen in the story.

Year 8 student Minhhah Naveed said 'I like reading with my mentor because I feel when we are reading a book together it is like entering into another world!'.

Year 11 student Hafsa Zafar who is a volunteer mentor for Ninhhah said 'I find being a mentor is a very rewarding experience. To be able to successfully encourage and follow the progress of those who don't read regularly, get to a point where they enjoy it is very satisfying. This volunteer project also helps me to fulfil a valuable requirement of my current Duke of Edinburgh award.'

STAGS Library also has a Year 7 Reading Club which runs on Wednesday and Friday each week. These successful clubs, increase literacy levels and boost the reading confidence of students. Well done to all Year 11 mentors –

keep up the good work!