9C Raise Money for Herts Air Ambulance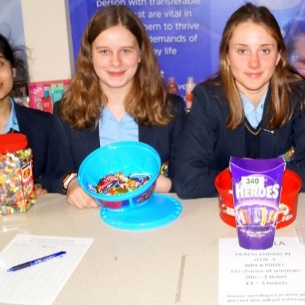 Last week, 9C led by Emily Kenny and Charlotte Geoffrey, helped raise money for the Curie House charity: Herts Air Ambulance. Nearly all members of the form brought in contributions as prizes for their tombola (including chocolate, sweets and toiletry items) and/or helped man the stall for five lunchtime sessions. Emily Kenny herself knows someone who needed this incredible and indispen-sable emergency service and was more than willing to step up to raise money for this worthy cause. They also led a 'guess how many jelly beans in the jar?' competition and Shayna Mistry in 8B was the lucky winner with a guess of 1625, only 3 away!

All in all, the girls raised £164.20 for Herts Air Ambulance and I thank them again for their commitment and willingness to help others. Their efforts did not go unnoticed on the School's Facebook page either, and a spokesperson for Essex and Herts Air Ambulance left a message for them:

Thank you for your support girls! We can't fly without you.

Miss Cusworth, Teacher of MFL