STAGS Year 12 Pioneers Win Pride Youth Network Award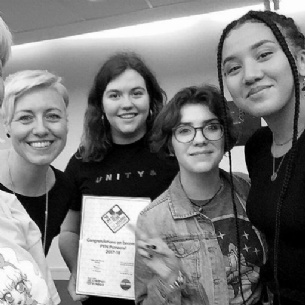 Congratulations to Year 12 Pride Ambassadors, Francesa Bookham, Izzi Brannen, Eleanor Carr and Kiera McGovern for being given a Pride Youth Network (PYN) Achievement Award on 14 April at Goldsmiths College. The certificate presented by the Pride Network Manager, Jo Thompson, was given to the students for holding events that instigated positive change and acceptance of LGBTQ+ issues within STAGS. During springtime last year Jo and Curriculum Leader for Religion & Philosophy (REP), Miss Brock supported the young pioneers and encouraged them to set up the Pride+ Group within the STAGS school community. She said 'These girls have really worked so hard on raising awareness of LGBTQ+ issues, they are quite amazing. In February, they organised resources for LGBTQ+ history and raised funds by selling rainbow laces, ran joint events with Tea Club on mental health, led information sessions on LGBTQ+ issues. In March, they organised a PRIDE+ film night for all years. Student Francesa Bookham said "We were all quite surprised to get an award, but very happy to accept".
The Pride+ Group meets up every Monday lunchtime in Room 35 and welcomes anybody who believes in equality. Come along and learn more about diversity. We look forward to a week of celebrating diversity at STAGS commencing July 2nd when there will be many great events.

For more information of the youth pride network programme please contact: www.educateandcelebrate.org