STAGS Year 12 Student Takes U21 Judo Title at English Junior Judo Championships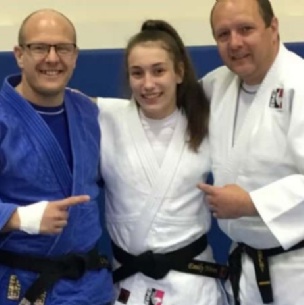 Congratulations to Year 12 student, Emily Niven who stepped up to compete in the U21 category at the England Junior Championships in Thetford, Norfolk last weekend. She went on to storm through the rounds unbeaten while executing some amazing ippon wins to take the U21 title.

Emily was first selected to the England squad in 2016 and has won a multitude of medals and titles over the last few years. Her best result was probably in Flanders, Belgium, where in a large pool littered with international judoka, she took a fantastic silver medal. Emily being awarded her black-belt by coaches Laurie Rush and Pete Brent. Emily is on the AASE (Advance Apprenticeship in Sporting Excellence) program at Bath University, where she attends during every school holiday plus several weekends throughout the year that is in addition to studying for three A-levels. Emily has fought in Belgium, Holland and Sweden, winning medals at all three. There seems to be no end to her success!

Coach Laurie Rush said "Of all her achievements, which includes international medals and representing her country along with her recent crowning as English Open Champion, achieving her black-belt rates as the best. I am so proud."