Outstanding Year 8 Junior Swim Team Represent STAGS at English National Final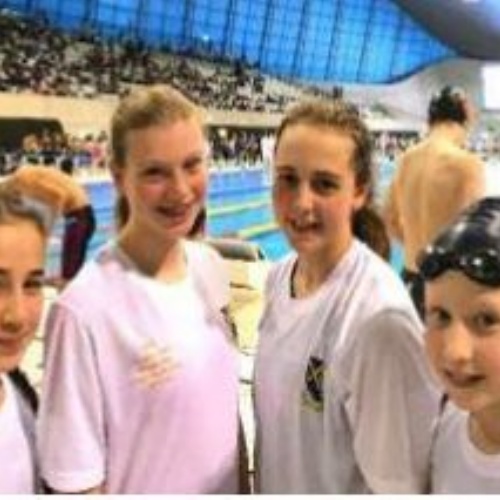 Please enter an introduction for your news story here.
Congratulations to members of STAGS Junior Medley who swam to success in the English Secondary Schools Team Championships National at The Aquatic Centre in London on Saturday 19th November. The outstanding Year 8 swimmers, Georgia Pritchard, Caitlin Hartley, Antonia Jubb and Sara Laitner qualified for this event at the Regional Final in Watford back in October. The team embraced the exciting opportunity to represent STAGS for the first time in this competition. PE Teacher Miss Cripps gives an account of this memorable event: After a long nervous wait to take part in their race against the top swimmers from across the country, our students took to the pool. All students performed exceptionally with some getting personal bests. The team finished 6th in their heat and although they did not qualify for the final STAGS Juniors did very well to come 18th out of the 30 teams for their age group. In addition to this, STAGS were actually the 3rd fastest school in the East Region which includes schools from Bedfordshire, Cambridgeshire, Essex, Hertfordshire, Norfolk and Suffolk! This was an improvement on their 5th finish in the Regional Final. Very well done to the girls for even getting to the National Final and performing so well on the day in their biggest competition for STAGS to date.