STAGS Rotary Interact Club Nominated For Prestigious Diana Award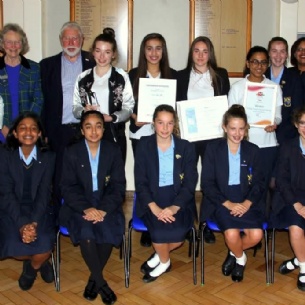 Congratulations to the active members of the STAGS Rotary Club 2017/18 who have been awarded the prestigious Diana Award in recognition of their outstanding contribution to society. The students nominated were President for 2017, Aaliyah Jalil (Year 11); Vice President, Munthaha Ahmed (Year 11); Director of Community Projects, Lily Brown (Year 11); Director of International Projects, Rose Macintyre (Year 11); Secretary, Emily Zaman; Club Secretary Aminah Awan, Samira Hanchaoui (Year 11) and Lucy Hawker and Lilian Ahmed (Year 12), who were former committee members. The fantastic news came through just before half term. Mrs Rock, Rotary Club Leader said 'I am very proud and pleased for the stu-dents because they so deserve this award. They took real ownership of their fund raising activities and always displayed such a keen, positive attitude. As club members they were dynamic, well organised and extremely successful fund raisers. The final total for that year (February 2017 to February 2018) was just over £3,000. The funds were raised for their chosen local and international charities, Keech Hospice, PHAB, and Open Door, Red Rubber Ball Foundation and UNICEF School in a box.

School events included arranging a school movie and pizza night, organising a Year 7 disco at school, selling cream teas and Easter eggs at lunch/break time, managing a whole week of events to raise funds and awareness for the campaign to eradicate the world from Polio. This included painting and auctioning off a Gromit statue. The students also helped collect entrance fees at the annual St Albans Abbey Fireworks and ran a cake stall at the St Albans Rotary Charity Cycle Ride.

In order to win a Diana award, the winners must fulfil certain criteria over a period of 12 months. The fundraising they do must be student led and clearly communicated within the school. In addition, the winners are required to provide evidence to show that they have made a lasting social impact and inspired others in the process of their charitable endeavours.

President, Aaliyah said 'We are very happy to get this award. Looking back on what we did, we really enjoyed organising the activities, it was all great fun.'

The award will be presented to the members of STAGS Rotary Interact Club on Saturday 23rd June, at a glittering event in London.

Mrs H Rock
Rotary Interact Club/KS4 Lead Practitioner for Maths